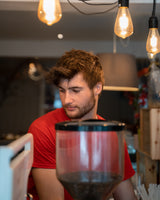 Welcome To Hungry Bear Gorey
Hungry Bear is an Independent Café/Restaurant Owned and Run by Ken and Louise Reddin.  We Live Locally and it is Our Goal to Provide Our Locals and Visitors with a Positive, Enjoyable Dining Experience Using Local and Seasonal Ingredients Where Possible.
Our Coffee is from Ariosa, Based in Co Meath. Michael Kelly Who Owns Ariosa is Passionate About Coffee and We Strive to Do His Product Justice by Constantly Training Staff and Monitoring Quality. The Coffee is Roasted in Small Batches and Delivered to us Weekly. From One Small Business to Another.
We Buy Locally and Only Cook to Order. We Make All Our Own Cakes, Breads, Scones,Sauces, Dressings etc. We Want to Offer Fresh, Quality and Healthy Food at a Reasonable Price. To See a Full List Of Our Suppliers Click Below.
 Ken, Lou & Team
Suppliers
Wide variety of breakfast and lunch options, caters for vegetarians /vegans. Coffee is top notch. Staff friendly, efficient and always welcoming.

Google Review
I was delighted with all the tasty sounding vegan options, I went with the super woman salad and half the hummus plate with an ice latte. Absolutely beautiful. The crunchy chickpeas were heaven. Really friendly and helpful staff too! 💕🐻🎉

Google Review
10/10. Food is amazing. Best part is staff looked after us very caringly. They replenished water without even asking for them to do it and they left us to digest our food and enjoy our time there without getting booted out for the next paying customer, which many restaurants do nowadays. Very polite staff also. Highly, highly recommended.

Google Review
Amazing breakfast here. Service was fast and safe, and everyone working here is so sweet. Fantastic vegan and vegetarian options, as well as gluten free bread, wraps and pasta available.

Google Review
We were in Hungry Bear today what amazing food so so tasty and the staff Were Brilliant so helpful. Go to eat there you will leave amazed. A special hello to a lovely young man called Dan 👍👋✋

Google Review